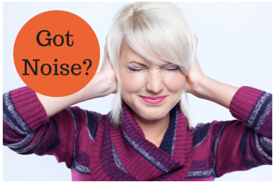 Got Noise? The HOA Noise Disturbance Blog You've Been Waiting For
 Got Noise? A Guide to Handling Noise Disturbances in the HOA



The 2 a.m. blast of music coming from an adjacent home, the constant yapping coming from a neighbor's adorable but excitable dog, the loud peacock (yes, we've had complaints of this before!), the click-clack of high heels on marble that comes from the upstairs condominium – whatever the noise disturbance, if you've shared adjoining walls or lawns with someone, you've probably experienced some form of it.
And you can be sure that, as a member of your HOA's board, members will come knocking on the board's door when they're on the receiving end of obnoxious noise disturbances.
The trouble is, a perfectly reasonable sound to one resident may be nails-on-a-chalkboard annoying to another. How do you navigate those tricky waters? Here, some essentials to consider:
1) Review City's Noise Ordinances
First things first. Every city has its own codes regarding noise disturbances, so checking your city's ordinances is an important beginning step. Consider the city of Mesa, which has outlined its codes to include standard prohibited noises (after 10 p.m. and before 6 a.m.) and others more specific (using an automobile to "create loud and unnecessary grating"). Find out first what your city and its police department regulate.
2) Consult HOA CC&Rs
Your HOA's Covenants, Conditions, and Restrictions (CC&Rs) should provide some guidance as to what kinds of – and how much – noise is acceptable. (If it doesn't, your board will need to address these guidelines and establish them for the future.) You'll also need to review what course of action you're required to take, if that's been outlined.
3) Act Quickly
If you find out that a resident has installed new wood or tile floors – or other remodeling projects that affect sound – without approval from the HOA, and you ignore or put off their neighbor's noise complaint, you could leave the board open to a lawsuit. Do your research, but don't delay too long in taking the appropriate action.
4) Take an Attitude of Mediation
It's important to adopt an attitude of mediation and resolution regarding noise disturbances. You don't want what could be minor conflicts to escalate. Encourage residents to talk to each other first, perhaps mediated by some members of the board, if necessary. If a solution can't be worked out, offer to bring in a third party – perhaps sound or other engineers who can test walls, floors, etc. – to see if what is being perceived by one party as an over-the-top sound is actually normal. The outside opinion could help to de-escalate the situation.