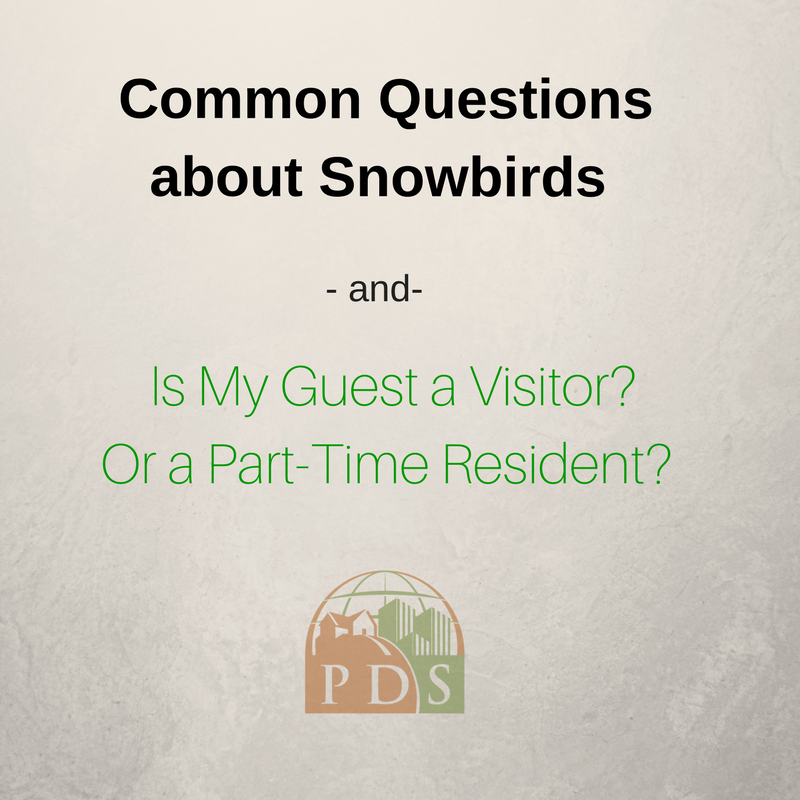 Questions about Snowbird Rules in the HOA, Answered
Arizona is known for being a warm getaway for snowbirds that want to escape the freezing temperatures that much of the United States experiences in winter. "New" neighbors are moving back into their community associations every day since fall has commenced.
As a result, it's not uncommon for residents in Arizona HOA communities to have a parent or family member living with them for part of the year. Or, for snowbirds to also have visitors during their stay in Arizona.
As an HOA management company that partners with community associations and their HOA boards in the Phoenix, Arizona Valley, these common question arises this time of year for all of our HOA Boards.
What is a visitor vs. a part-time resident? Why does the HOA have rules pertaining to visitors or part-time residents
? 
Since Arizona attracts so many snowbirds, many Arizona HOA communities include a set of rules in their bylaws for part-time residents. First, check the CC&R's to see what constitutes a visitor versus a part-time resident. Many associations have this outlined by, for example, how many days constitute residency for your visitors.
Why would an Arizona HOA community have rules in place that govern part-time residents? Any rules regarding visitors and part-time residents are put in place to keep the community safe and make it an enjoyable place for all residents to live. Generally speaking, the term "guest" or "visitor" refers to someone that stays in the community for a relatively short period of time with the property owner present. Typically, when the property owner is on site, there will be fewer issues with the guest.
Do I have to notify my HOA if a snowbird parent or family member lives with me during winter? 
Most issues that come up with part-time residents are related to the rules and regulations of the HOA community. For example, if a snowbird guest or a snowbird family member moves in for any period of time in the property owner's absence, issues within the HOA community can arise such as the part-time resident may not understand the rules surrounding trash day, noise levels, or parking.  We suggest, as a best practice, reach out to your HOA Board to notify them of any part-time snowbird visitor or part time resident (as it would be defined). They can help remind you of the rules visitors or part-time residents need to follow during their stay in your home.
If your HOA doesn't currently have enforceable parameters in place that address part-time residents and guests, it's in the community's best interest to speak with an Arizona HOA management company about establishing governing documents around this topic, or insert into your CC&R's. By clearly defining the rules surrounding visitors and part-time residents for your HOA community, you'll minimize potential conflict for everyone.