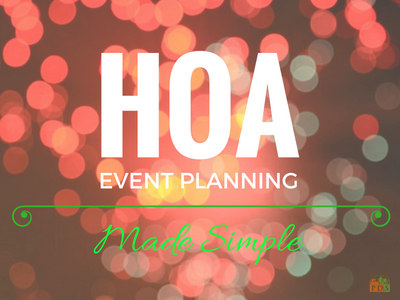 The holidays are here! How will you involve your HOA community in holiday festivities? 
We know, we know – we JUST had Thanksgiving. The holidays are upon us, and in fact, our favorite stores are spilling with garland and tree trimmings already.
Like last year, and every year prior, the fervor for holiday planning is already sinking in for most families. And if you are involved in your HOA Board, you are probably starting to think, "What are we going to do with our HOA community this year during the holidays?"
The thought of planning yet another event, on top of your work potlucks and parties, multiple family events during the holiday season "tour," – this can be a stressful task during what should be a joyous time of year.
2 Helpful Tips for Planning HOA Holiday Events
First – Ask for Help!
Asking for help is not a bad thing. You can't do it all. You shouldn't do it all. But look at the bigger picture here – asking members to help, rather than just attend, is a great exercise in building community relationships. Putting together a committee of volunteers promotes interaction between neighbors. This is the PERFECT opportunity to meet people, and build bridges between families that may otherwise have never interacted. Also, involving the community helps ensure that all diverse cultures and traditions are recognized during any events.
Communicate – Get a plan together!
Newsletters, E-newsletters, Facebook pages, personal E-mail – use all the outlets you can to ask for help. Use one point of contact for building the committee, and put a deadline for sign up in your postings. You have to draw the line on when planning starts and ends.
Ok, now you have your committee, you set a meeting time, and you delegate responsibilities. For those organized types, this is a piece of cake. Now, comes the creative part…..what kind of event will your HOA host?
HOA Holiday Event Ideas
"Round Robin" – Have a sign up for families that want to be involved in an open house style event. Each family signs up for a time slot and opens their home to the group. First family has cocktails, second family has an appetizer, third family has first course, and so on. A few families can double up to lessen the burden of preparing the dish.
Holiday Decorating Competition – How about a competition that benefits a charity? Community members can vote on best decorated entryway or doorway (for example) and the "winner" picks from a list of charities to send all the collected donations to! It's a win – win! You could pair this friendly competition with any of our other event ideas.
Holiday Cook-Off
– Pick a meeting place, maybe your community common area (check your CC&R's), and have a holiday cooking contest! Everyone brings their favorite and traditional recipes and the HOA members vote! Couple this with the
white elephant game
, and you are guaranteed a good time had by all!
Catered Event – Charge a small fee to make up the budget, and hold a catered event in your common areas, or reserve a space at a local restaurant and each family pays on their own.  If you choose this theme, be sure to check your governing docs first, to see if there are any laws/rules for HOA's contributing to community events.
Carnival –
A great idea for communities with a lot of families with children. You can rent bouncy houses, casino style games for the adults, and supplement kids' events with yard games and craft projects.
Oriental Trading
is a great site for purchasing craft projects and prizes on a tight budget.
We want to hear what you have done in the past! Please share your HOA Holiday event ideas with us!