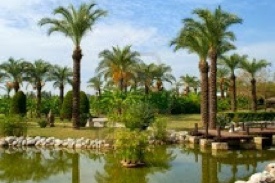 What you may not know (or want to hear) about non-monetary claims against HOA's
In our ongoing series about Director and Liability Insurance, we have covered the importance of ensuring your HOA board has the correct policy (not just an endorsement), the difference between endorsements and policies, and discrimination lawsuits (one of the most common lawsuits facing HOA's today).
The second most common lawsuit is a non-monetary claim, which are quite confusing….
Let's set up the scenario:
You live in a property that has a pond, surrounded by large, mature palm trees. The community overlooks the pond and trees, but the HOA board decides to remove some trees. The homeowners surrounding the pond can not put a price on those trees removed, but the removal of such trees potentially just lost them some real estate value. The owner can't exactly put a price on the trees now, or in the future, because he feels the aesthetics of the community have been ruined.
This is a non-monetary claim against the HOA.The plaintiffs in this case file a claim that does not have a monetary value to it. D&O Liability packages need coverage that have a built-in exclusion to deny these types of claims.
This again leads us back to why D&O liability coverage is so important, and making sure your HOA has an inclusive package, as opposed to an endorsement. It will save your board money and headaches.
Think about this:
When a lawsuit hits the desk of the HOA board, they have to defend themselves. If you don't have appropriate D&O coverage, you may be pulling out the checkbook to pay the attorney retainer for thousands of dollars, as opposed to having the correct coverage for significantly less.