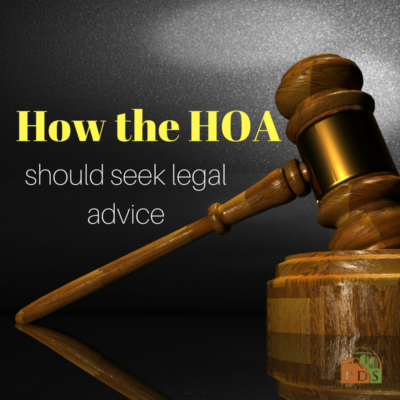 3 Ways to Seek Legal Advice for the HOA
With all the nuances and potential complications of governing a homeowners association, it's no surprise that boards may need to seek legal advice on occasion.
How should the HOA Board seek legal advice for your homeowners association?
Your HOA management company can be a great place to start. With ample resources and experience in the industry, here at Planned Development Services we will not offer legal advice, but can often point you in the right direction.
You should also consult your association's governing documents. According to Beth Mulcahy, Esq., of Mulcahy Law Firm, P.C. – and a 16-year veteran of the community association industry – if there isn't a specific protocol in the association's governing documents, you have the following options:
The board can authorize a specific officer – such as the HOA Board President – even a committee or employee (e.g. manager), to seek legal advice on behalf of the association at their discretion. It should be noted that if the HOA Board authorizes a specific officer, committee, or employee to seek legal advice, at their discretion, such authorization should be included in the association's records, minutes, or board resolution. There should also be agreed-upon limitations, such as financial limits. If the board authorized only certain board members as the point of contact for legal issues, direction should be provided to the association's attorney.
The entire HOA Board can vote whether to seek legal advice in any given circumstance.
A board member, ideally the HOA Board President, can likely go outside of an agreed-upon protocol or board vote in emergency circumstances, such as when immediate legal advice is needed. However, the board should also consider ratifying this potential authorization in meeting minutes.
Regardless of the method your HOA Board uses to seek legal advice, members should remember that it is being sought on behalf of the association – not on behalf of any individual board member or owner.  If you have any more questions before you seek a lawyer, feel free to contact your community manager to discuss the situation and we will point you in the right direction.
Thank you to Mulcahy Law Firm for contributing to this article.