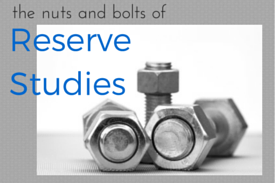 Why Complete a Reserve Study for the HOA?
Why should my HOA complete a Reserve Study?
A
reserve study
is a budget planning tool. It reviews the major capital systems in the homeowners association.
The study evaluates how much life is left and how much items are likely to cost when they wear out. It calculates how much money the HOA needs to set aside each year to have enough to replace common area items.
Why should I complete a reserve study if Arizona HOA Law doesn't require us to?
Easy – it protects board members from liability. Somewhere down the line, board members do not want to be subject to potential liability. Especially for non-profits boards, standards are set fairly low. They MUST act in good faith. But it's not too far of a cry to argue that a board is failing even that standard, if it isn't making effort to make sure adequate reserves are maintained. Reserve studies would certainly go a long way toward providing the board some protection if they're competence was ever challenged.
How do you do the calculation?
Take the estimated replacement cost an any item, then divide by number of years it is estimated to last (useful life). That number is the amount that needs to be reserved each year for the HOA.
I am not sure I can adequately complete a study. Are there experts to complete a reserve study for my Arizona HOA Board?
Yes! It can be costly ($500 to $10,000 depending on complexity of the HOA).  Studies get complex, for example when dealing with condos where associations may own only some of the walls.  Determining which walls are homeowner responsibility and which are the responsibility of the association can be tricky.   Gated associations that have their own roads or golf courses, will pay more for a reserve study expert, as large estimates may be required. But, hiring an expert is imperative. They have the knowledge and software to make sure every single component is included, therefore producing the best results.
Reserve studies aren't perfect either….
For example, if you ask 'how many years does my roof have left,' or 'how many years until we have to replace the swimming pool and what does that cost?' remember that the answers are only estimates.
Unless your HOA board is expert at building components, they aren't qualified to evaluate the useful life. The board needs to understand that the reserve study may be an important aspect to their responsibilities, and not doing one may cost some major $$$ down the road!