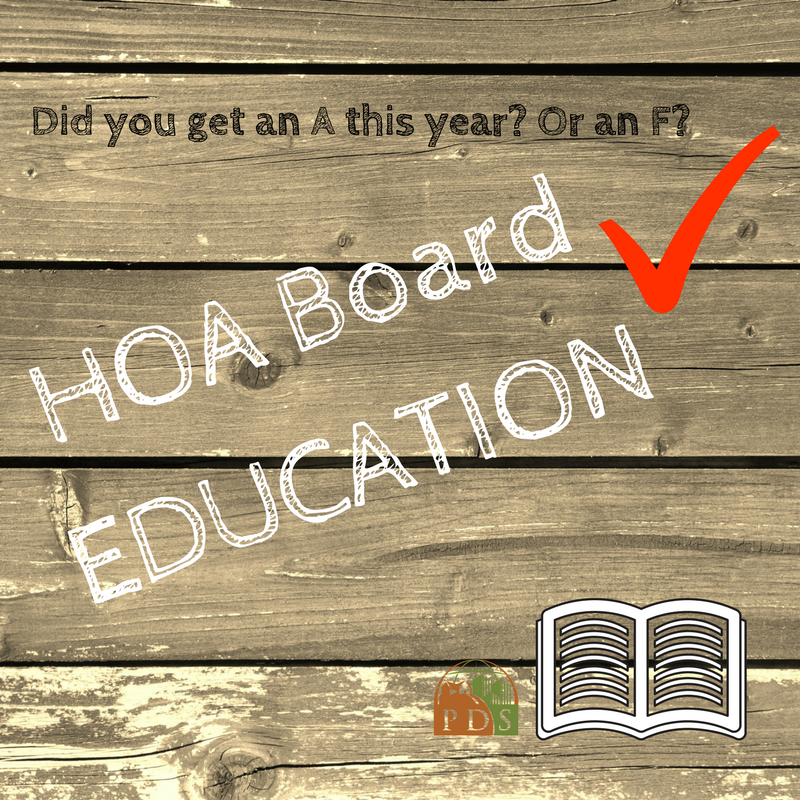 The Importance of Ongoing HOA Board Education
Serving on the board of your homeowners association is going to feel like a totally new and unique experience. Despite previous experience serving on any board, non-profit or for-profit, get ready for a new ride!
An HOA (homeowners association or community association) is complex, diverse, and multi-faceted. It's consistently changing as new state laws, new community issues, and new residents join the community. As a board volunteer, you have to be ready to address these changes.
The key to preparedness is being properly educated!
The more you know about the ins-and-outs of how an HOA operates, the more confident you can feel about the many decisions you will make as an HOA Board member.
As you work on your HOA Board education, how will you decipher which topics are most important? There are several areas to focus. In our 20+ years of HOA Management experience, we have concluded these particular HOA generalities are the most crucial to successful management by the HOA Board.
Seven areas of HOA Board Education to focus on:
1. Understand your HOA's basic financial status. As an HOA board member, you are partly responsible for the proper administration of HOA funds. Heard of "fiduciary duty?" Yep, as an HOA Board member you are a fiduciary. As a fiduciary your obligation to the association is to act in the best interest of the association, show good faith and act diligently – most importantly in regards to the HOA's general financial well-being. Make sure you spend some time reviewing the current budget, past budgets, and the most recent reserve study. Don't know much about a reserve study? No problem, read our blog, Why To Complete A Reserve Study.
2. Get familiar with state laws impacting HOA's. What are the legal allowances and restrictions that your community association faces in your state? No state laws are the same for HOA's, so learning the state laws is crucial.
3. Know your community's guidelines – CC&R's – front and back! The HOA is also governed by its own unique governing documents, after the applicable HOA state specific laws. Board members should have copies of these, and spend some time studying and understanding them.
4. HOA Insurance and Directors Liability Insurance – one does not equal the other. Quickly brief yourself on the types of lawsuits facing HOA's, and how to discern if your HOA & HOA Board Directors have proper coverage. These are not all inclusive policies! We've covered this here in a recent blog about HOA Directors Insurance.
5. Develop best practices for ensuring that HOA meetings are effective and not too time-consuming. This will involve some strategic development on meeting procedure and possibly integrating some templates. We have a complete archive of articles and tips on how to have a successful HOA Board Meeting.
6. Know your management team. Who is your property manager or HOA Management company? What services does your association management team offer? Spending some time with your manager, simply getting to know one another, can be most helpful so that you are using your resources wisely.
7. Know your role (And everyone else's too!). A clear understanding of expectations for each board member also helps define everyone's role. Start by outlining the board's powers & duties and the roles of the board officers. Try this exercise with the entire HOA Board present, if possible. Your board is most likely comprised of individuals who come from diverse backgrounds, each with different perspectives and problem-solving methods. This exercise will create stronger and more effective working relationships amongst the HOA Board – guaranteed!
Let's be honest….who has time for MORE to-do's? Making HOA Board education a priority seems like a daunting task. But, it is surprisingly easy to create a clear funnel of quality HOA Board education to be delivered to your board. Certainly, there are many HOA blogs and publications out there, including this one! Sign up for the feed or follow on social media to have the information delivered without searching!
If you want to dive deeper, check out the workshops and HOA Board trainings that your HOA management company (should be) offering. Here at Planned Development Services, we host monthly workshop and invite experts in various fields that impact Arizona HOA's. In-person sessions offer the opportunity to talk face-to-face with experts, so you can make better decisions for the Community Association! Ask questions, get informed, and take the information back to the HOA board. Trade-off the monthly schedule so everyone on the board is taking a share of the work. Can't make a workshop? Talk to your PDS community manager about on-location training for your HOA Board, or if a download is available.
We also encourage you to join your local chapter of Community Associations Institute (CAI). CAI provides up-to-date education, information, activities, and more, to not only the HOA board members, but to residents as well. CAI hosts networking events and vendor expos that enable you to engage with experts and network with other HOA Boards (it's likely another HOA Board has faced an issue you are currently dealing with – pick their brain and get to know one another!).
In conclusion, serving on the board of your HOA is a big responsibility. The better you equip yourself with current information and ongoing education, the more effective you can be – both as a decision maker and as an informed resident in your community association.
If you would like our help in speaking to your Arizona HOA Board about the benefits of continuing education, please call us today at (623) 877-1396. Or, email Dawn Engel at dawn@pdsaz.com.