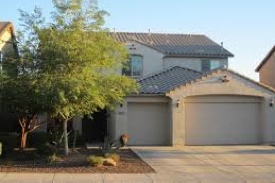 Spring is just around the corner – How's your landscaping?
Punxsutawney Phil saw his shadow on Groundhog's Day, signaling a bit longer of a winter. Just because we have more time, doesn't mean you should procrastinate on your landscaping. Now is the best time to look at the "spring cleaning" matters in landscaping.
Look around your yard, and then ask yourself……..
Do you meet the minimum plant requirements in your HOA? Do you need to add plants to bring your lot into compliance? If unsure, check with the Community Manager  for the approved plants and process to make changes needed. Your manager is there to help you! Take advantage before making unnecessary costly changes. Your HOA may have the tools you need already at your disposal.
Do your plants just need trimming maintenance? Arizona Municipal Water Association gives these easy tips for how to prune which plants, properly. They also have a handy maintenance schedule you can follow.
Have you applied appropriate chemicals for a weed-free yard this summer? NO ONE wants to pull weeds when it's over 100 degrees. Consider visiting the local home improvement store for product recommendations, and ask for options, such as pre-emergents,  that are safe to use near children and pets!
Take the proper steps now to save you loads of work and money $$ on your landscaping

!